Windows Xp/7 offline update tool
29-06-2012, 01:35 AM,
(This post was last modified: 29-06-2012, 01:41 AM by XdeathX.)
Post: #1
XdeathX
Dean Winchester


Posts: 726
Joined: Apr 2010
Reputation: 10

Windows Xp/7 offline update tool
boleh convert update kepada iso (perlu internet connection, pergi la cybercafe ke mane2 ke dan install update macam biasa
. windows xp versi modified yang dah kena buang Internet explorer n automatic update disyorkan guna benda alah ni
. dia akan download file dari microsoft sendiri.
WSUS Offline Update
...since security, time and bandwidth are money.
Modifications in version 7.3.2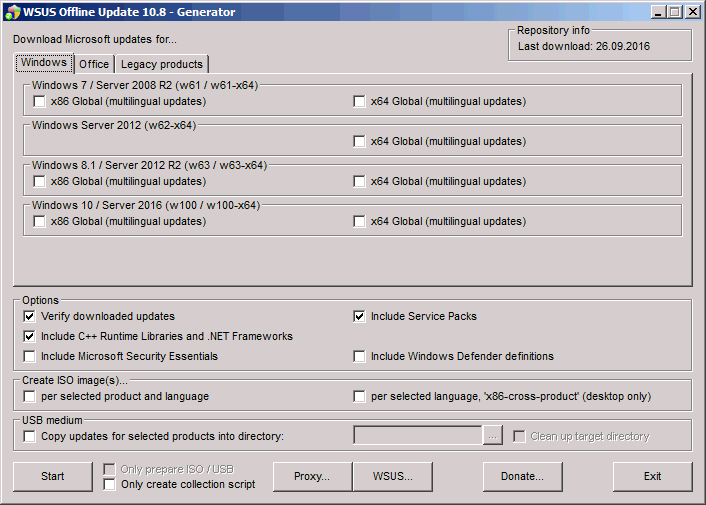 Changelog :
Quote:- Installation part will now disable the screensaver when running under WOUTempAdmin user account (Thanks to "harry")
- Existing installations of Microsoft Security Essentials may now be updated to most recent version (Thanks to Th. Baisch)
- Fix: Linux script DownloadUpdates.sh attempted invalid dos2unix calls (Thanks to "Spider-Mann")
- Fix: Scripts contained typos in log messages (Thanks to "Extrinsic")
- Fix: Download part missed Security Update kb2633171 for Windows Vista and 7 (x86)
- Fix: Microsoft Security Essentials definition files wouldn't be updated on Windows Server systems (Thanks to "Denniss")
- Fix: Windows Defender definition files were attempted to be updated even if Windows Defender was disabled (Thanks to "Denniss" and "aker")
- Fix: Network drive reconnection during recall failed on English systems (Thanks to J. Holland)
source and download
Code:
http://download.wsusoffline.net/
klik archive link kat sebelah kanan tuk download.
"hidup umpama roda harini orang baling taik kat kita.. esok orang yang baling taik tu kena baling taik 2-3 kali ganda lagi banyok.."